Accountability Works.
Private Accountability Coaching
Ensures consistent action
So you can go further, faster
without burning out.
Accountability Works.
Private Accountability Coaching
Ensures consistent action
so you can go further, faster
without burning out. 
You are building a business. Growing your team. Tracking what everyone is doing.
You have a lot on your plate that needs to get done. For your business and for your well-being.
You are sacrificing one for the other.
You are working within an outdated, unsustainable framework.
And you are ready to make a different choice.
Feeling Stuck?
We can help.
Our proven process makes focusing, simplifying, and prioritizing easier.
Those small day-to-day actions, habits, and routines will quickly create the momentum you've been missing. 
Our 12-week program is just long enough to see results without getting distracted by the next shiny idea or thing,
We don't let you put aside what you set out to accomplish. Until it's done.
I reached a point with my business and employees where I felt like I had many opportunities ahead of me, and was stuck trying to figure out what to go after and which would benefit the most. Ali's program got me moving, got me to lay out what was important, and one step at a time accomplish tasks that got the ball rolling. The result was I looked back after 12 weeks, and was amazed at what I had done, but more importantly, amazed at which of the opportunities became obvious to focus on. I would recommend this program to any person, whether you have employees or not, who wants to further their growth and put an action plan in place and GET MOVING!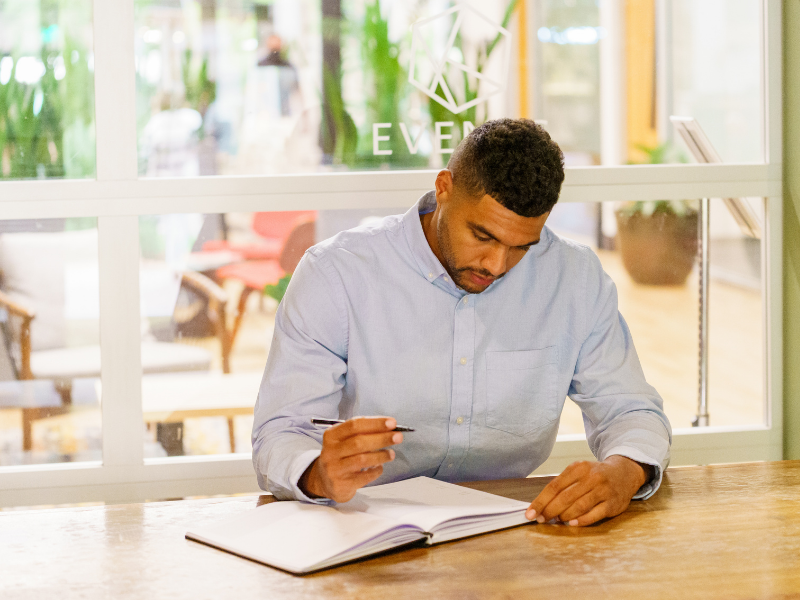 12-week Private Accountability Coaching Includes:
Intake questionnaire to help you clarify what you want to work on and
Match you with the right AW certified coach for what you are working on.
(1) 45-Minute 1:1 Planning Call to Map Out Your 12-Weeks
(10) 45-Minute 1:1 Accountability Calls to Help You Decide on Action Steps
Navigate Problem Areas, and Assess What is Working
(1) 45-Minute 1:1 Quarterly Review + Wrap Up Call to See How Far You've Come!
Access to our Proprietary Accountability Works App to
Track Your Vision, Goals + Weekly Actions
Ali didn't let me fall down my own rabbit holes, allow doubt to push me away from the work, or distract myself with projects that weren't going to give me results. Through example and action, she taught me how to identify and override these chronic habits. I feel far more capable to prioritize, plan, and execute after working with Ali.
Ali has helped me segment the essential from the non-essential, allowing us to focus with laser like accuracy, on things that really matter. 
Frequently Asked Questions
What types of goals do your private coaching clients work on?
Our private coaching clients are primarily small business owners, solopreneurs, contractors and consultants. That means they are tracking many different areas of their businesses at once so their goals span everything from financial, sales, marketing, systems, hiring, retention and more. However, the unique aspect of our program is that even though our expertise is in working with business professionals our program encompasses both the professional and the personal. That is why every one of our clients has a Personal Foundation®. These are the habits and routines that help you feel your best in terms of energy, connection to yourself and others, and stress management. It is critical as a leader that you do the work to accomplish your goals without burning out.
Why is your private coaching program 12-weeks long?
We tested various lengths of time to see what works best and we have found that 12-weeks is long enough to make significant, measurable, game-changing progress without burning out. Our program is rigorous. We are going to ask you to set goals and then hold you accountable to sticking to them. We know that in that process there will be a period of high resistance where old patterns rear up. In the past this is where you might have gotten derailed or given up. 12-weeks is long enough to see you through those patterns and give you the tools to manage through them so you get the results you want. After that, should you want to continue, we encourage you to take a 1-week rest. This gives you the opportunity reflect and celebrate all that you've accomplished before starting another 12-week session.
How is your program different from other types of coaching?
Our program is all about taking consistent, weekly action. The biggest complaint with other types of coaching is that you get a lot of information and tools, but are left on your own when comes to implementation. Oftentimes there are modules to work though either alone or in a large group program, homework to get done and maybe check-in during office hours or during a large group coaching call. Ultimately, there is more to procrastinate on and feel bad about not completing. At Accountability Works, everything is focused on you and your goals. The curriculum is established by your vision, goals and strategy. The only homework is what you commit to getting done each week. And accountability is what ensure it all gets done. It is also the most frequently missing piece of other programs since it is such a specialized skill. Here is our 5-Step Process, so simple and yet, profoundly effective.
1) Vision - Identifying where you want to be in the long term and what you are working towards in the big picture.
2) Goals - The short term goals that have the highest impact on getting you to that vision.
3) Planning - How you will go about accomplishing each of your goals, we will re-evaluate this throughout the program to make sure that you are seeing results.
4) Commitments - The actions that will make the biggest impact this week in getting you to your goals.
5) Accountability - Brings it all together. Without accountability 1-4 are lost to distraction, other people's demands on your time and energy, and your own resistance. Accountability is asking you every week what you got done. What, if anything, was missed and why? Knowing you have that built in changes your behavior from reactive to proactive. It keeps you on track and moving forward. It pulls you through the things you don't want to do (even though you know how important they are) and serves as a touchstone to evaluate where you are now and what is next.
Our clients love their accountability calls and marvel at how much time was being wasted before. They can hardly believe that they have time to grow their businesses effectively and take care of themselves and loved ones.
What does your private coaching program cost?
Our aim with all of our programs has been to make them as accessible as possible while knowing the value that we provide. You will find other coaching programs cost thousands of dollars per month. Our private coaching program requires a minimum of a 12-week commitment. We also offer a 1-year membership for private clients with some additional calls and associated discounts. You can find all the details here. We offer a 30-day money back guarantee from the date you enroll. Our founders, Ali Schiller and Marissa Boisvert, are also available upon request. To learn more about working with one of them, we suggest you book a free consult.
How am I placed with a coach?
As soon as you enroll, we send a questionnaire to help you clarify what it is that you want to work on. This also serves as a jumping off point for your planning call where we cover vision and goals. Once we receive your questionnaire, we review it and assign you to a coach who's skill set best fits with what you are working on personally and professionally. You can also schedule a free consult with your assigned coach ahead of your first planning call.
How is your private coaching program different from your small group coaching program?
Our private coaching program consists of 12 weekly, 45-minute video conference calls with your coach. It is built around your schedule, meaning more flexible start and end dates, along with the entirety of the call focused on you and what you are working on. In a small group you are committing to12 weekly, 1-hour accountability calls (for up to 4-sessions per year), and sharing that time with 2 other group members. In addition to your coach, you also receive feedback from your group mates who will have varied experiences and perspectives to offer. If you are interested in our small group program, click here to learn more.
How do I know I will get the results that I want?
Ultimately, the responsibility of taking action is yours. However our coaching program has proven to be highly effective. We have been in business for over 10 years with a client retention rate of 80%, something virtually unheard of in the coaching industry. Why? Because mindful accountability does work. Our model is built on the fact that observation changes behavior. Once you know what you want, you commit to doing it, and you have to check-in every week on how you've done. This ensures you will do exponentially more than you would without that real, person to person accountability. We also track everything in our proprietary Accountability Works® app. You will see how you are tracking week to week on the actions that you are committing to so you have real time feedback on where you are and how you are doing.