Have you ever set a really big goal with absolutely no idea how to go about accomplishing it? Me too. When I was 19 years old I set a goal to run a marathon and I was definitely not a runner. At the time I figured if I ran a marathon I'd lose weight, build my endurance, and become the disciplined, focused person I really wanted to be.
I got a book, copied the suggested training schedule (I skipped a lot of the runs) and did all my training alone. I knew nothing about form, stretching, or injury prevention so it's no surprise that I started racking up injuries as I added miles. By the time I reached the peak of training, my body was done. One night before my last speed workout at the gym I heard my hip pop. I felt pain but I ran through it. The next day I couldn't walk. Turned out I had tilted my pelvis and one of my legs was now two inches shorter than the other. Several adjustments later I was evened out and feeling better but my marathon training was over for now. I promised myself that one day I would train again and this time run a full marathon.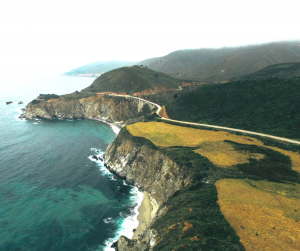 "One day" turned out to be 10 years later. I was 29 when I completed the Big Sur Marathon. By that time I'd run several 10k's, at least 7 half marathons, and I'd started practicing yoga. I knew how to deal with injuries and avoid them. I had a running partner. I got a more comprehensive training schedule and committed each week in my accountability group to following it exactly. I had bodywork done when the training runs were in the 16-20 mile range. I visualized the run over and over again in my head. I knew the terrain well and even though I'd never run there I could easily picture it in my mind's eye. I always saw myself smiling and feeling good as I crossed the finish line.
On race day I was nervous and excited. It never crossed my mind that I wouldn't finish. I wrote affirmations from Louise Hays book You Can Heal Your Life on my arms for each of the parts of my body that hurt on long runs (including the hip that still bothers me to this day). The only problem we faced was totally unexpected. I knew our pace was on the slower side but I didn't realize that would mean that the stations that provided food and energy shots would be out of provisions when we arrived. We got plenty of water but no extra calories and when you are running 26.2 miles the banana and peanut butter you had for breakfast is not going to get you very far.
By the third empty station we were starting to panic. Out of nowhere a friendly neighbor came out of their house with freshly baked muffins. At mile 20 we were given a basket of strawberries. At mile 22 we realized the hardest part was behind us. We picked up speed. We were laughing, joking, and singing. We started to pass more and more people. We ran those last 4 miles faster than any others. We crossed the finish line hand in hand, smiling, and so, so happy.
The experience reminds me of my favorite quote from William Hutchison Murray:
"Until one is committed, there is hesitancy, the chance to draw back, always ineffectiveness. Concerning all acts of initiative (and creation), there is one elementary truth that ignorance of which kills countless ideas and splendid plans: that the moment one definitely commits oneself, then Providence moves too. All sorts of things occur to help one that would never otherwise have occurred. A whole stream of events issues from the decision, raising in one's favor all manner of unforeseen incidents and meetings and material assistance, which no man could have dreamed would have come his way. Whatever you can do, or dream you can do, begin it. Boldness has genius, power, and magic in it. Begin it now."
Even though I know a lot of people decide to run a marathon and do it a few months later, I'm not ashamed that it took me 10 years to achieve my goal. I didn't know when I started that I would need to learn how to listen to my body, how to take care of it, how to stay committed, how to be accountable, how to visualize, and how to ask for help. Most of what I had to learn had very little to do with running and a lot more to do with mindset!. What I learned translated into everything I've done sinse because running that race changed me and I will always own that accomplishment.
If you are looking at other people and comparing their achievements to your own STOP. Know that your learning process is going to be different. It's going to be beautiful because it's yours. So please remember to run your own race, enjoy it along the way, and don't give up because as long as you keep going, you will reach your finish line.