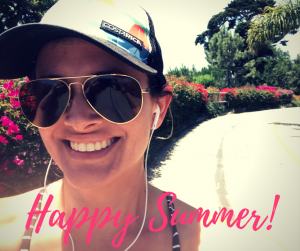 It's the summer solstice today and it has me thinking its time to celebrate the longer warmer days and the relaxed vibe that is so welcome and needed as part of our natural rhythms. I was running in the midday sun – which I never do – and feeling so deeply appreciative of the beautiful summer day that I decided I wanted to really celebrate the solstice and bring summer in with intention. 
Here are 3 things you can do today (or tomorrow, or this weekend) to celebrate the start of summer and close off the first half of the year:
Reflect: What dreams, plans, goals did you set in the winter or spring that you are ready to let go of? Which ones are you ready to lean into with everything you've got?

Express Gratitude: What are you grateful for? What have the last six months brought into your life that wasn't there before? What have you learned or shared? How have you grown? This is a great thing to do with your family or friends. Saying it out loud brings it home in a different way.

Play: Summer is our time to play and sometimes we can forget how important it is or even what it looks like for us now that we are "grown up". So think about it, what does play look like for you? Is it a kitchen dance party? Is it a run through your neighborhood? Is it a mean game of Spike Ball? Welcome summer in with a little bit of that and you will be kicking it off to a great start.

 Have fun, celebrate, and happy summer!!