Making Productivity a Daily Habit
My effort to make productivity a daily habit is not accidental. It is the byproduct of a question I ask myself a lot.
"Am I doing the best with the time I've got?" 
I can tell I'm making meaningful use of my time by the results. A goal completed or a project launched. But it is also more subtle than that. It means managing where attention goes. It means focusing on the things that matter most and making a diligent effort to avoid distraction. I'm particularly good at going down rabbit holes. So it's been my aim to make productivity, especially during my work hours, as much of a habit as possible. The less I have to think about it the better!
As an accountability coach, I've been blessed to meet a lot of people that are far more productive and focused than I will ever be. Thanks to their willingness to share their productivity secrets, I've learned a lot over the years. Today, I'm sharing the ones that have stuck the longest, been the easiest to use, or had the most impact.
The 5 Tools I Use Daily
Eliminate email distraction and clutter
Sanebox: This is an email inbox organizer that a highly productive client suggested to me a couple of years ago. It sorts your inbox into 3 categories I find very useful; Inbox, Later, and No Replies. It's smart so eventually it will learn what emails you want in your inbox, what emails you want to read later, and what emails you've written but haven't received a reply. There is a reason they give you a free 2-week trial. By the end of two weeks you've got it perfectly trained and you are loving your clean, streamlined inbox. Productivity wise it saves me at least 30 minutes a day on email clutter and distraction. Cost: $7/month
Stay focused while working at your computer
Momentum: This is a Google Chrome extension that changes every new tab you open into a beautiful reminder of your most important priority of the day. It also includes an inspirational quote and you can add a to-do list if you need one. You can upgrade to the premium version but so far I've been pleased with the free one. I love this tool because I'm prone to having way too many tabs open on my computer at once. Now every time I open a new one I'm reminded of my focus for the day. Cost: Free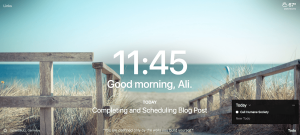 Make better lists, avoid multiple trips, and worry less
Wunderlist: This is an app I've used for so many years that I have lists saved for things I do weekly, monthly, and yearly. I have lists for shopping, packing, different types of trips, holidays, birthdays, and planning. Productivity wise not only does this app save time it also gives you peace of mind. I love knowing when I'm doing something like skiing or camping that I haven't forgotten something important. Like the time I showed up for a camping trip without my tent. Cost: Free
Turn mundane tasks into learning opportunities
Audible: My goal is to read 30 books per year. I would never be able to make my goal without this app. I listen to books in the car, while I'm doing dishes, when I'm folding laundry, when I'm waiting in the pick up line at school, or at an appointment. Although I love physical books, being able to turn a mundane task into a rich learning experience is worth the additional monthly expense. For instance, this weekend I cleaned my house while listening to The Hidden Life of Trees: What They Feel, How They Communicate – Discoveries from a Secret World and I was so fascinated I didn't want to stop! Productivity wise I've read 82 books so far using this app. Cost: $14.95/month
Keep track of your goals and progress
AWorks: This is our Accountability Works app. Right now it's only available to our members. Still, it is one of the top 5 tools that keeps me on track every day. I can see my goals, my commitments for the week, and how I'm doing on each goal as the session progresses. It also gives me a completion score. I know that if I complete 85% or more of my commitments I will hit my goals so if I dip below that line it's time to tighten up and recommit. Having that constant feedback, along with my accountability group, is priceless.
In Conclusion
I hope you find these productivity tools helpful and that you will share your favorites with me. I'm always open to a new tool especially one that's worked for you!
Update:
Since I posted this article this morning I've been getting great suggestions! Here is one I've already downloaded and am excited to use – Inbox When Ready. This turns off your inbox so you don't see your emails until you are ready to process them. You can still send and search emails but you aren't distracted by new emails coming in. It also shows you how much time you spent in your inbox per day. Thanks for the tip Doug E.!