Last week I had the privilege of leading a mastermind retreat. The people that signed up for this 8-month mastermind program have huge stretch goals for 2017 and they have been working diligently and meeting every week virtually so I wanted to give them an opportunity to have a unique experience together. Since this was the halfway point in the program I pretty much had 3 things on the agenda: 
To celebrate, nourish, and replenish. I wanted to remind them to stop and celebrate the wins, to disconnect from the noise, and connect again to what really matters. 
To check in. How is 2017 going versus how you thought it would go? What went well? What is calling for change? 
To stretch. To face the second half of the year with excitement and an even deeper desire to expand.
When I planned the retreat I decided to bring in four experts – a meditation teacher and intuitive, a yoga teacher, my favorite badass business advisor and strategist, and a health and fitness expert. I could not have been more pleased with what each person taught our group. 
We learned meditation techniques from Susan Moe I had never heard of or experienced and I've been meditating for two decades. Each person took their turn in the hotseat (which they were quite scared to do) but turned out to be filled with incredible insights from our advisor/strategist, Joy Margolis, and their fellow masterminders. On the last day we did a yoga class taught by Kelly Heath that was focused on Sankalpa or Intention. During this class I felt so much emotion because I realized that I was once again living in a moment that I had dreamed about and I bowed deeply to the power each of us has to take an idea and to bring it into being. Last, but certainly not least, we met with Andy Schmiess, founder of Fat Club, who came to talk to us about mental toughness and peak performance but who actually talked to us so sincerely about his own experience that we all felt moved by witnessing his story to go bigger in our lives. It was powerful.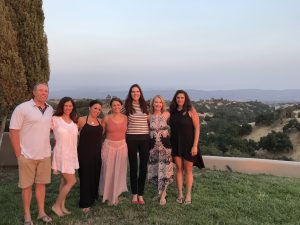 I wanted to share this experience for a couple of reasons. One is that it might inspire you to take a mid-year break, to check-in, to pamper yourself a bit, to breathe. And second, I wanted to share that during the spring as I was facing a challenging time in my life (loads of anxiety and insomnia), the message that I got was to go inward. To be quiet. To listen. And that is very much what I've been doing. At the retreat I heard this same message over and over again except this time it wasn't directed at me. Go inward. Listen to your body. Listen to your heart. Just listen. It got me thinking that maybe it's something that more of us need to hear and that I should say it again, and louder, to all of you that read this.
Don't miss the listening part, it's important.