At the end of last year I did several workshops to help you plan a great 2016. Part of the workshop was to write a vision statement. Just one line to capture a snapshot of where you'd like to be at the end of 2016. This was by far the most difficult part for people.
I thought about it for awhile and I realized that not everybody visions as much as I do and that I needed to give you a method for writing a complete vision before asking you to narrow it down to one statement.
So here it is, the Dream Big Guide.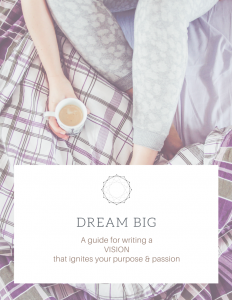 WARNING! This is way different than anything I've ever made for you. In fact, you might actually think I'm nuts after this, but oh well, so be it. If it makes you smile, if it peaks your curiosity, if it pushes you to dream a little bigger, it's worth it to me.
So here's my hope. That you will laze in bed on Sunday morning with a hot cup of coffee or tea. That you will read through the guide and journal your answers. That you will keep an open mind and that you will complete your vision. And when you do that you will reach out to me and let me know.
Ok that's it for now. Happy visioning!