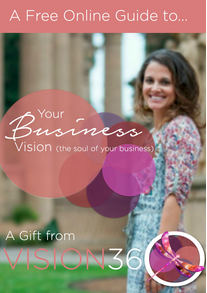 Check out your free gift! If you are a tear-your-presents-open kind of person you can scroll down and get it right away. If you want the personal story of how it came to be, read on.
Every session of Accountability Works, I not only lead groups, but I am also in the process. I decided to use this session to do something I've never done before.
The long-term commitment: 12 short weeks ago, I committed to launching the Vision360 retreat – online. Yes, you read that right, online!
The weekly commitments: So what does it take to put a retreat online? I had no idea. So like I say all the time to my clients, "start with baby steps." Step one was signing up for David Siteman Garland's Create Awesome Online Courses. It turned out to be a wise investment. It gave us a step-by-step outline to follow. Shauna and I developed the content in parallel to learning all the structural, technical, and marketing ins and outs. This required countless Google Hangouts, 4 full days in person over two months, and that does not include actually shooting the retreat which takes place later this month. This work took up the bulk of my weekly commitments for the first 6 weeks of the session.
Concurrently, we decided to re-brand the retreat. This required working with a talented and patient graphic designer to package the content. We went into every detail imaginable from fonts to photography, colors, logos, a zillion edits and working across multiple platforms including Mailchimp, Leadpages, and WordPress with Facebook and Wishlist coming next. I learned the value of Dropbox & Google Hangouts for coordinating with a team.
I also attended an online retreat, took a course on online marketing, and another course on list-building. I also threw in a 42 day cleanse which required I give up caffeine, alcohol, and all processed foods in addition to practicing yoga, twice daily meditation, and weekly guided journaling exercises. It sounds really hard but it actually gave me tons of energy and made a lot of what I got done possible. For good measure I decided to organize everything – my finances, my house, even my time. All of this happened through small weekly commitments.
The barrier: There are always going to be obstacles when you set out to do something new. In my case, the big obstacle was my website. When I made the commitment to putting the retreat online I was in the midst of a website redesign. I'd hired a designer but things weren't going well. The designs that were coming back did not align with my vision for the site. I had a pretty strong gut instinct to stop the project so I bit the bullet, left my deposit on the table, and walked away amicably. But I still needed a new website. My old site was not robust or polished enough to handle the backend of the course. So I did the re-design myself. In retrospect, it was this fear-based decision that got me into trouble.
During the re-design I lost about a week's worth of work because of the way I transferred over the new content. Two weeks later my site was hacked. I was able to bring it back up but it had been injected with malware and came down again a few days later. I found a WordPress security expert to clean up my site and add the additional security safeguards I needed.
Processing: In the end, I made it through this barrier and I learned that sometimes I hide in the details. Not just get lost but actually hide. I can now see this in a lot of things I do. Like how when I'm overwhelmed I'll start re-organizing the pantry, or sort all my son's legos by color. I find it relaxing and fun, which I know is weird, but it's my way of restoring order when I'm freaked out. That's the benefit of a barrier, there is always something for you to learn from it. In the future, I'll be more aware.
The 12 week wrap-up: It's not launched. It became pretty evident in November that a December launch was unrealistic so we pushed it to the end of January to give ourselves breathing room. There is still a ton of work ahead. But as Shauna reminded me, there is a ton of work behind us too. Even though I don't like missing the mark, I have to say I have never packed more learning into a quarter in my life and that includes when I was studying engineering and physics. Blows my mind actually. Plus, I have to admit, the challenge has been really fun at times.
Your Gift: The idea to do a retreat on vision, came from you, the ones doing the work. I was listening to you. You started making commitments to write a vision, a mission statement, create a board, make a life plan. All different forms of the same fundamental desire – to set a destination. Vision360 came from that desire.
I wanted to say thank you by giving you the Vision360 Business Guide, in it you will find the exact process I used to create a vision for my own business. I have to say that the vision that I now have for my business is bigger and bolder than I ever thought possible. It inspires and grounds me because it's not something that I have to make happen overnight. It's a long road, but certainly the one I want to be on.
Enjoy, dream big, and thanks for reading.
Much love,
Ali
P.S. Don't forget registration for the Winter session of Accountability Works opens December 19th. Stay tuned for details.