Accountability Works for a college student
My niece, Marina, just got her first 3.6 GPA ever, in college no less. She is thrilled and I am thrilled for her. Marina has been interning with us for the last several months. Part of her internship is not only to help with our my social media but to learn the ins and outs of the Accountability Works® process. So for the last semester, I've been holding her accountable to her big goals.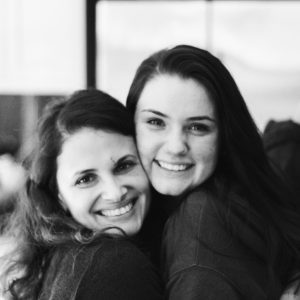 I don't typically work with students. Actually all our members are students in a way. We've had some that come to write dissertations or finish a thesis or apply to graduate school. They just aren't usually 19-year old college students focused on getting good grades. Remember, worrying about your grades?
Big goal of transferring to a top university
Marina attends community college and in order to reach her goal of transferring to a top university she needs to earn a 3.5 GPA or better. That's a great goal in terms of the AW process because it's specific, measurable, actionable and ambitious. We mapped out a detailed strategy for how she was going to do it. We started by looking at the syllabus for each class and organizing her calendar. Once she was clear on all of her homework assignments, papers, and test dates it was easy for Marina to decide what to focus on on each week. 
A map is a great thing to have but it only works if you follow it.
Marina made between 4-6 commitments every single week. She kept all but one which is extremely impressive. Each commitment she made was to a specific action related to her classes and usually she made one for each of her 5 classes. The week she missed the commitment it was to write a rough draft of a paper that wasn't due for 3 weeks. Marina is used to working on things under pressure and stress. She admitted it was hard to work on something so far ahead of time. Even though she had mapped it out she just couldn't bring herself to do it. I'm sure we can all relate to that. Procrastination is a habit and as many of you know, a tough one to break.
We tell ourselves that we perform better under stress and that we do our best work at the last minute!
Marina wasn't happy with herself for procrastinating. We revisited what she wanted to achieve and why versus the choice to procrastinate. It became clear that she now had even more on an already full plate. It wasn't going to serve her to put even one thing off. So for the rest of the session she didn't miss a single commitment. When she found out her GPA was 3.6 she was so proud of herself. Not only did she see her hard work pay off but now she is confident she can do it again. 
Questions for Marina
I asked Marina if she didn't have accountability what would she have done on her own to be successful?
She thought about it and said she would probably have a to-do list and put her assignments in her calendar but it wouldn't be as organized and she would likely procrastinate a lot more.
I also asked her how meeting every week to review and set actions steps helped her?
She liked having someone else to check in with. It made it so she was more likely to do the things that she wrote down. She liked that I asked her questions every week about her classes which made her stop and regroup and make a plan for the week ahead. That way she was sure exactly what to work on. It also meant a lot to her that someone recognized how hard she was working and gave her positive feedback.
How life has comes around full circle.
I was 19 years old when my Mom introduced me to my mentor, Kathy Ollerton. It was during a weekend workshop that I first learned about the principles of commitment and accountability. Kathy sent me home with my very first commitment sheet. It was the first time I can remember writing down my goals and the steps I was going to take to achieve them. I didn't have anyone to hold me accountable to those steps and they were soon forgotten.
Now 20 years later, I'm introducing my niece to the same principles except this time I've filled the accountability gap so that the things she puts at the top of her list actually get done. I can hardly believe the path that has led me here but I feel pretty happy that this is the work that I do and that I get to pass it on to someone I love so much. Who knows maybe 20 years from now she'll be passing the same knowledge along to someone else.