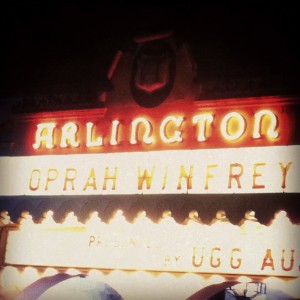 Last night, thanks to my very thoughtful husband, I got to see Oprah receive the Montecito Award at the Santa Barbara International Film Festival. She sat on the stage with a reporter from the L.A. Times and was interviewed for almost two hours. Oprah with all her fame and charisma, has a self-deprecating humor that had us all laughing. She joked endlessly about the "body of work" she was being honored for and how Gayle, her best friend, had literally dropped the phone laughing when she heard that she was getting a tribute award, pointing out she has appeared in a total of 3 movies. So rather than talk about her films as the interviewer would have liked, she turned each of her performances into life lessons we could all relate to. I left uplifted, inspired, and in awe of her wisdom.

I loved hearing about her journey to the role as Sophia in The Color Purple. She described her obsession with the story. How she read the review of Alice Walker's book in the NY Times and threw a coat over her pajamas and went straight to the bookstore to get it. How she went back the next day and bought all the copies they had and gave them to people she knew. How when she moved from Baltimore to take the job at A.M Chicago she would walk around in her off time with a backpack full of copies of the book and give them away. Who does that? Oprah did. She really walked around with a backpack full of copies of this one book because she so deeply believed people should read it. When she heard the film was being made she prayed to God that she somehow in some way could be part of the film. She shared the act of serendipity that got her the audition and the devastation she felt two months later when she checked back with the casting director only to hear, "you know there are real actresses auditioning for this part?" Sure that she had lost the role she came to the realization that all there was left to do was pray for the strength to let it go. So she begins to pray to God to give her the strength to be okay with a movie that did not include her. Determined to keep praying until the moment came when she really felt that she could let it go, she kept praying and singing and praying. Finally the moment did come and the space opened up and she let it go. Once that happened, literally right after she surrendered, the call came. It was Steven Spielberg on the line.
Oprah said that she got the power of surrender in that moment. That when you have done all that you can do, you must let it go, and if it is meant to be, it will happen. She said that she has used that lesson at least a thousand times since. I learned something from that story. I believe in focus, I believe in action, I believe in knowing what you want and going after it. I hadn't ever thought about surrender as being a part of that process. It's a piece of wisdom I've been missing. Thank you, Oprah.