Your Year in Review
As we approach the end of the year and prepare to unplug for a bit, we wanted to gift you one of our favorite sections of the AW Planner and a beloved exercise within our community. Below you will find the 2022 Year in Review.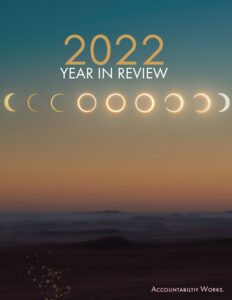 Our Year In Review exercise is a wonderful way to reflect and wrap up your year. It's an opportunity to acknowledge all that happened in 2022. And if you are new to it, we bet you'll be surprised at how much you've forgotten and how much there is to celebrate, even if it was challenging.
We invite you to set aside some quiet time to dive into this mini-workbook, intentionally simple and pared down. Use  it to mine the nuggets of goodness and lessons learned that will become the fuel necessary to renew your commitment to what matters most to you in the year ahead.
The AW 2022 Year in Review includes:
A Visual Month to Month Review. Review your photos, calendar, planner or journal and see what stands out about each month of the year. Write your highs, lows, special moments or stand out experiences for each month. 
Revisiting Your Goals, Wins and Challenges. Mindful accountability is all about looking at what went well and what was challenging, and learning from your experience.
Reflect on Your Lessons Learned. Take all the information you gathered and encapsulate it in 4 short reflections.
Inevitably when we do this process with our members, they are genuinely surprised at all they accomplished and they gain a sense of perspective before they turn their attention to the year ahead.
We hope you will give yourself that gift as well. Please hit reply and share with us any insights you glean. We always appreciate hearing from you.