Meet AW Coach Madeline Ruskin
Today our Accountability Coach Q+A is with Madeline Ruskin. Madeline Ruskin is a National Board Certified Health & Wellness Coach (NBC-HWC) and graduate of Duke IM's Integrative Health Coach Professional Training Program. She specializes in holistic, science-backed and mindfulness-based behavioral change. 
Madeline describes her path toward becoming a coach as a "series of small serendipities." After graduating from college with concentrations in theatre and journalism, she began her career as a professional actor, appearing in film, TV, and theatre. During this time, she utilized her writing and communication skills to assist graduate school professors, authors, psychologists, healthcare educators, and attorneys in private practice. Eventually, Madeline's diverse set of talents and professional experience, coupled with her enthusiastic spirit and genuine compassion, led her to coaching. After receiving comprehensive training in the neuroscience of behavior change, functional lifestyle strategies and habit formation, she began coaching professionally.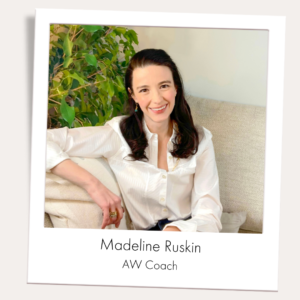 Why are you an accountability coach for AW?

It is a privilege to be a Coach for AW, where the principle of accountability and practice of compassion lie at the heart of all of its work. The AW process provides a comprehensive and coherent framework for mapping a client's trajectory toward goal achievement, all while emphasizing the client's individuality and ongoing wellbeing. As an Accountability Coach, I collaborate with clients at every step of this process and witness –week by week– its impact in evoking meaningful discoveries and clarity. I champion my AW clients and their aspirations, and I am continuously inspired by their courage, commitment, and resilience.
What are 2 values you embody and 1 you aspire to?

Two values I embody are Authenticity + Heart, and one I aspire to is Vitality.
At this time, what practices make you feel your best and make up your Personal Foundation?
Currently, my Personal Foundation includes –
Yoga + Strength-Training

Quality Time for Connection + Fun

Weekly Creativity

Daily Meditation

Ongoing TLC for My Home Space

Tracking my Sleep + Hydration
When was the last time you did something for the first time? What was it and what did it feel like being at your edge?
Physical activity has always been an integral part of my life. I have pursued forms of movement and exercise, from ballet and tap lessons to swimming, summiting Colorado's fourteeners, clown and stage combat, and cycling. For several years now, however, I have been devoted to my yoga practice. 
Although all of these disciplines involve a degree of strength and coordination, it was only recently that I decided to pursue strength-training in its own right. Even as a (very green) beginner, I have found it exhilarating to push beyond my perceived limitations and realize my body's potential for growth. The level of mindfulness that strength-training demands has surprised and delighted me. So often, with dumbbells or kettlebells in hand, I will repeat the mantra I once heard from Peloton instructor Jess Sims: "How do I know I can do hard things? Because I'm doing them!" and then I challenge myself to go HEAVY!
My favorite stress reliever is…
Spending time outdoors. Right now, that's going for a walk through my Brooklyn neighborhood (

unaccompanied by electronics!).

It's amazing how going for a walk –even a shorty around the block—can refresh my perspective, revitalize my spirit, and reset my day.

Performing a random act of kindness for a stranger or acquaintance (without the intention or expectation of receiving acknowledgement, thanks, or something in return).
My happy place is…
The theatre. Sitting in the audience. I love it.  

Being in nature, especially among aspen trees, on horseback, or any place I feel wholly enveloped by the natural world.

Snorkeling in the ocean or lying in the sand listening to its waves.

Being in the company of loved ones.
The book, movie, podcast, etc. that I'm most excited about right now …
I am a voracious reader and audiobook binger, so I will keep this list to my current favorites.
Nonfiction:
Fiction:
Poetry:
Audiobooks: 
I am currently addicted to international crime thrillers and binge-listen to them by the series (by the series!). The talented narrators with their oh-so-wonderful accents and character voices make the mysteries all the more enthralling and my listening all the more compulsive. In fairness, listening to audiobooks has proven an effective incentive for completing household chores, errands, etc.  I have too many favorites to list here, but please don't hesitate to reach out for recommendations or to share yours!