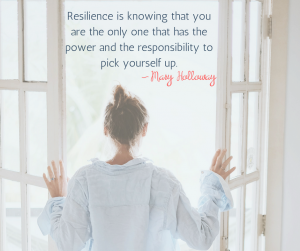 I finished my thought experiment in the spring of 2015. Heading into the summer I wanted to focus on spending time with my kids and enjoying the summer. I was slowly changing the dialogue I was having with myself. I was okay with not pushing as hard and enjoying my life more. I was more willing to hire work out to free up my time and to invest in experts to help me grow my business faster rather than figuring everything out on my own.
Part of that investment included working with a branding expert to help me craft my messaging. I was telling her about my work and how I helped people and she laughed at me. She told me that my business was the equivalent of an accountant telling people they should work with them because they use spreadsheets. In other words, accountability is a tool, not a benefit, and all people want to hear about is benefits. Oh, and the name of my business was unfortunate and had I thought about changing it?
I didn't notice it in the moment but later I could trace the beginning of my downward spiral to this conversation. It hurt my confidence in my work, my certainty of purpose, it even made me question how I worked with people. I honestly don't know why I gave this person this much power over me but I did. For the 3 previous years, aside from my family, I had been pouring everything I had into my business and to have someone I respected and admired, who had worked with a lot of big names and companies, speak about my business that way was like being punched in the stomach.  
This conversation preceded a vacation with friends to Mexico. Not ideal. Take a needy and insecure woman with a predisposition for expensive tequila and it is not a good combo. I drank way too much, caused a lot of drama, half of which I can't remember, and came home wanting to bury myself under the covers for at least a year. The next day, I started a juice cleanse, booked appointments with two therapists, and was an overall mess albeit a determined to get better one. All the things that I'd been dealing with – my husband's constant travel, balancing running a business with taking care of my children, even taking basic care of myself seemed completely overwhelming. I needed constant reassurance that I was okay, I didn't want to leave the house, and I couldn't sleep my anxiety was so high.
Looking back, I'm glad this all happened because it led to my biggest breakthrough which I will talk about in Part 3. However, I will share an interesting tidbit to wrap up this chapter. I had the opportunity to meet the branding expert who gave me the harsh feedback in person a little while after all of this had happened. I told her that what she said had been extremely difficult for me to hear and that I had taken it really hard. She did not remember saying it. Not at all. She actually laughed (again) and said something to the effect that she didn't remember half the stuff she said and she was sorry if I took it the wrong way. If she only knew!
The whole sequence of events from hanging up the phone with her to ending up in therapy with a box of tissues in my lap was a product of my choices. Not only did I let the downward spiral happen, I made it happen. I had to take full and complete responsibility if I was going to pull myself together and that's exactly what I did. There was no one to blame or point the finger at. It was the most fragile I have ever been. The question I had was…why?
The Wild Mind Retreat is coming in November. This is a time to relax into nature, to quiet the mind, to do bodywork and soul work together in community. Tap into your wisdom. Leave lighter and freer than you've felt in years, or maybe ever. The Wild Mind Retreat is now open and we still have spaces available. Click here

for more information.