Months and months ago, sitting around a table with some of my very favorite women, we started talking about Oprah's The Life You Want Weekend. We pulled out our phones confirmed that we could all make the Seattle weekend and when ticket sales opened we pulled the trigger. I realized as I was scheduling flights that it's the same weekend that I went to the I Can Do It seminar in Pasadena last year and I laughed at myself. The names of the weekends alone have me chuckling.
Here's why I make room in my life, my budget, and my calendar for these types of events. Inspiration. Last year, when I went to I Can  Do It, more than anyone I wanted to see Anita Moorjani. Her book Dying to Be Me had been a huge source of joy for me which is saying a lot considering it is a book about someone dying of cancer. I wanted to see her in person and to feel her energy live. If you've read the book or decide to you'll know what I mean. I also got to see Wayne Dyer and Louise Hay. The beauty is you never know what you are going to get out of it. Last year I had so many "aha" moments I had to record them in a voice memo on my drive back up the coast.
This year, I'm really excited to be at another live event with Oprah but I'm also thrilled that Mark Nepo will be one of the speakers. I begin almost every single day reading The Book of Awakening.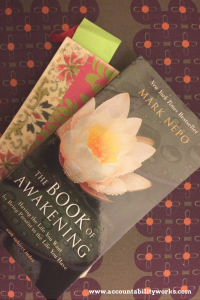 He is a poet, an author, a cancer survivor, and all around inspirational being. His writings are deep, honest, and profound. Elizabeth Gilbert will be there too and I respect and admire her and her work. I can still remember exactly where I was in my life when I read Eat, Pray, Love.
Life can be a grind, even when we do work that we love, we can get tired and lose focus. Taking a break to connect with human beings that we admire and that uplift us is a huge reminder of who we really are, what we really want, and reconnects us to our purpose. I've also found that inspiration is the precursor to motivation. Every single time, I make that investment, I come home with so many ideas as to how I can live more fully and ultimately be a happier version of myself. It doesn't just positively impact my business, it impacts my whole life
Spirituality and self-growth may not be what inspires you, maybe it's art, food, yoga, or music, maybe it's architecture or poetry, or nature. Finding a way to connect with that inspiration is well worth the investment. I encourage you to plan an inspiration vacation, even if it's months away. Let it be a weekend that is meant solely to inspire you and if you do, report back, I want to hear all about it.