It's time to get fired up about business plans! In October? Yes, that's right.  Why now? Well, one of my accountability groups is busy with their 2013 business planning and they are so happy about getting it done early, it's inspired me. Why it never occurred to me to start planning in October, when life is decidedly less hectic than in November or December, completely escapes me!
So why bother creating a plan at all? Well honestly, you can start or run a perfectly good business without one. But personally, I like to take the time to look at how things went, what worked what didn't, what I want to do more or less of in the future. For me, it's a tool to gain insight, and then take that information and project out into the future what I want for my business. It keeps me organized and on task, which makes me feel good.
For those of you that aren't too familiar with business planning there are so many great resources out there for you. I really like this video from the Harvard Business Review where Tony Tjan, CEO and managing partner at Cue Ball Capital a venture capital firm, talks about How to Build a Flexible Business Plan.
A few years back a mentor gave me a book called  "E-Myth Revisited: Why Most Small Businesses Don't Work and What to Do About It" by Michael Gerber. After reading this book I had a powerful shift in perspective. It encouraged me to spend time working on my business rather than in it. It is not a business planning book but its full of great information that still informs how I write my plan today.
At the beginning of this year I wanted something a little lighter and more fun. That's when I stumbled on "The Right Brain Business Plan" by Jennifer Lee. This is for people who tend to the creative side and that may be turned off by the idea of plans and numbers but that can see that they will benefit from a plan. The picture here is from my office.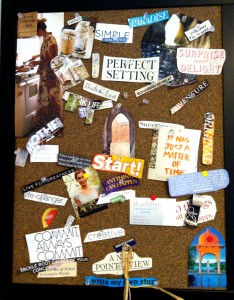 This came out of one of the exercises in the book that asked the reader to make a visual representation of their business. This board is something that I look at it all the time and it makes me happy. It's about the feeling that I want my business to give me and that I want to give people through my work. It's a reminder of where I'm going and why I'm doing what I'm doing. Don't underestimate the power of a visual.
A few months back I was at the bookstore and the "$100 Start Up: Reinvent the Way You Make a Living, Do What You Love, and Create a New Future" by Chris Guillebeau caught my eye. I'm always looking for good books for entrepreneurs so I bought it and once I started reading it I couldn't put it down. It's a quick read, interesting, and has tons of examples of people that are making their living in unconventional ways. This book has a great 1 page business plan exercise. You could seriously knock  it out in about 30 minutes!
Here are my tips on writing your 2013 plan:
Schedule a time to do it in your calendar, then keep to your allotted time. You can always revise it later.
Keep it simple.
Don't get too caught up in the details.
If you don't have all the information you need trust that you have enough to get going.
Remember that the power of your plan is in acting on it.
Good luck and have fun!