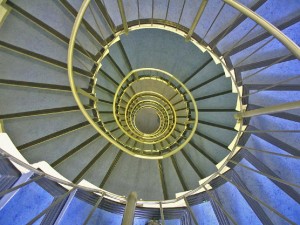 I have been thinking about the relationship between intention and commitment. I am often working with people on taking their intentions, for example to be more grounded, and then turning that intention into a set of commitments that will support that outcome. Commitment precedes accountability and since it's my job to hold people accountable to specific actions I tend to focus on breaking the intention down into concrete steps. However, I was recently reminded of the importance and power of intention.
Last week I heard one of my friends tell someone that she had been intentionally deepening her relationships over the last year. The comment really hit me because after she said it I realized how true that actually was. I can honestly say that there has been a noticeable shift in how she approaches her relationship with me. It's not that the texts, the calls, the facebook messages, or the times that we've hung out together have dramatically changed in frequency but there is a quality to it that makes me feel more valued and cared for. The intention that she has to deepen her relationships has opened me up to reciprocate in kind and as a result I get so much more from our interactions and hopefully she does too.
I am clear that when I use the word commitment I'm talking about something that is actionable, measurable, specific, and ambitious but not everything is meant to be broken down into action steps in that way. Setting the intention to develop your relationships means you can find all sorts of ways to do that, it can be a difference in your attitude, the way you listen, the way you interact, how you walk into a room, all of which are not commitments to be made but still result in noticeable shifts. You can make commitments around it or not, but still the intention is there.
I'm loving the interplay of these two concepts because we need both tools to manage the steps and hold the space for growth to take place. For example my intention may be to inspire and nurture growth whereas my commitment is to write once a week about what I'm thinking, learning, reading, or am inspired by. I honestly hadn't given much thought to my intentions because I am more focused on my commitments, but identifying my intentions and realizing that they actually hold my commitments, opens up a lot more room for creativity. Have you ever given any thought to your intentions? What is one intention that you would like to set? Personally, I'm going with deepening my relationships because I love it so much.