This week we are happy to share our AW Member Q+A with Dave Boduch.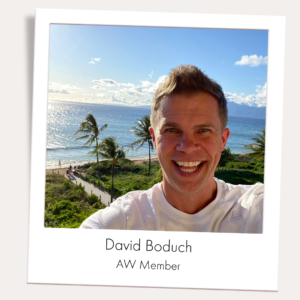 Name…  
Dave Boduch (Bo Duck)
My true north/WHY is…
Making others happy! I am most happy when I make other people happy. It's the best feeling. I love special surprises by playing their favorite song or making their favorite food or asking about their latest adventure. Give someone a compliment. People love when you remember something they've shared with you or when you notice something about them. Try it! It'll make you feel good. It's a gift that keeps giving.
My expertise/zone of genius is…
Does not exist. What does exist is the superhero (LOL) "Anything Man". My wife calls me that. I am really good at just about everything but not an expert at anything. I've always wondered if that is a blessing or a curse. I like it because I truly feel like I can do anything.
My daily practices are… 
When I am being accountable: meditation, workouts, reading, guitar playing, dog walking, eating healthy, drinking a gallon of water and of course, some work and fun family time!
My favorite indulgence is…
Golf and Friday Happy Hour!
I'm reading, listening and/or watching…
Reading:
Reading Tools of Titans by Tim Ferriss.
Listening – Podcasts:
Listening to the new Extreme album, Six.
Watching: 
I love watching Rocky movies!
To me, accountability is…
As simple as that, being accountable for your actions. If you want to be accountable, then you better do what you say you're going to do!
Accountability Works helps me…
Get stuff done! It's like a true miracle worker for me. Once I know I have to be accountable to someone, then I plan out my actions to make sure my goals are accomplished. It's amazing! It's what works for me.
You can connect with me or learn more about what I do…
You can get in touch with me through my email: dboduch2@gmail.com