This week we are happy to share our AW Member Q+A with Erika Westhoff. Erika is in her second year of our small group program and we've so appreciated the energy she brings to her group. One of the things that has stood out to me in observing Erika is how willing she has been to try something completely new and challenging. I hear over and over again the desire to do a mid-career pivot and Erika is someone who has actually done it! And even though she is fiercely brave, she is also really easy to talk to and someone that you feel you can endlessly learn from. I bet you'll learn a thing or two here. In fact, I'll be googling Whoop next. See what I mean? Enjoy!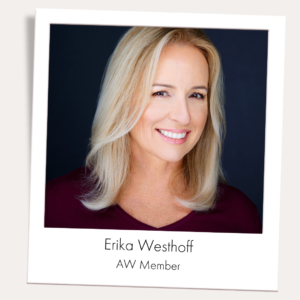 Name…  
Erika. I've been called, "Dr. Westhoff" (I do not have a PhD.) "Mrs. Westhoff" "Ma'am" "Westy" but my preference in any context is, Erika.
My true north/WHY is…
Helping people navigate their lives. This philosophy began with my first career of 25 years as a Mental Skills Coach (Sport Psychology) for elite level athletes striving to go to the top of their sport, but were feeling held back. My athletes have accomplished amazing things including competing in the Olympic games, earning scholarships at top Division 1 programs in many different sports, and in some cases just accomplishing their personal goals. This philosophy has also been at the core of parenting my three kids. My goal has always been to teach them how to do for themselves, rather than me do for them. Parenting is often a messy journey with many ups, downs and occasional backflips, but I have managed to raise three very independent kids each on their own unique paths and I am so proud of each of them. Lastly, this philosophy is also why I chose my current career in real estate. I pride myself on providing excellent service, transparent communication, and a smooth process for all parties. Ironically, real estate is a much more competitive business than working in sport, so I really love the challenge of it and creating opportunities to help individuals and families.
My expertise/zone of genius is…
Meeting people where they are. Everyone arrives in my business(s) in a new and different place and my job is to meet them where they are and move them forward. I read people well and tend to observe and listen a lot, especially in new situations. This approach prevents me from being a "slick" salesperson, but it allows me to connect with people in a very genuine way and build trust. This approach is a bit slower and takes more time than is ideal in sales, but it works for me and allows me to work more authentically with my clients.
My daily practices are… 
Morning, midday or evening? Lol. I've had a HUGE advantage in my mental training career studying and practicing stress management techniques for decades now. Today, many of these practices are starting to become mainstream, but they've been tools in my toolbox for years and years. I love that Accountability Works helps me and everyone else stay accountable to our Personal Foundation. It really helps, even people like me who are already highly motivated, and have daily practices. My current list of daily practices:
Sleep

– at least 7.5 hours, ideally 8ish hours per night. This has become challenging now that I'm in my 50's, so sleep routines (like consistent bedtimes, eye mask and ear plugs (and occasional sleep tape…ask if you're curious) are KEY…I'm quite a sight at night :-)) Some nights it takes me 10 hours in bed to get 8 hours sleep, but I get it all in most days. 

Meditation

4-5 days per week in the morning.

Exercise

– I truly love to exercise and I've done everything from competitive cycling (BMX, Mountain Bike, Road), Kickboxing, Triathlon (sprint, Olympic and half iron distances), Marathon, Trail running/hiking, Weightlifting…the list goes on and on.  But my first love has always been riding and training horses. Horses led me to my career in sport psychology, taught me how to handle the highs and lows in sport and life, and how to connect through feel and energy with another being. It also taught me the value of being technically correct, or pay a very high price for mistakes. Show jumping is more dangerous than football, and it's something I plan to do as long as possible. There's no other feeling like connecting with a horse and having the partnership to do hard things as a team. It's a feeling I wish

EVERYONE

could experience.

Wind down time

– I need time at the end of my day to relax, let my day dissolve away so I can sleep well, which sets up my next day. This usually is a brainless TV show (reality tv or HGTV) or reading a good book.

TRACK IT ALL!

  Mental training with athletes has led me to use and understand so much of the biofeedback technology that is available today. If you want to make changes, then you'd better be measuring throughout your day.  I'm a huge fan of Whoop and its technology.  It was great to begin with, but they just released a new function where you can monitor your stress levels in real time throughout the day. I'm already learning how different triggers are impacting my stress levels in more detail than ever before. I can see how my stress during the day or a glass of wine impacts my recovery during sleep. It really helps to connect all the dots. I already use this technology with athletes I work with and who knows, I may require my real estate clients to use it as well.  😉
My favorite indulgence is…
A massage. It's truly the most relaxing and indulgent thing I can imagine. I should be better about getting them more often. I think I'll book one right now!!
I'm reading, listening and/or watching…
Reading:
Welcoming the Unwelcome by Pema Chodron
The Deal by Josh Flag
Surrender by Bono
Outlive by Peter Attia
Listening – Podcasts:
Huberman Lab – Dr. Andrew Huberman
Everyday Wellness – Cynthia Thurlow
Whoop Podcast – Will Ahmed
Smartless – Will Arnet, Jason Bateman, Sean Hayes
Watching: 
HGTV – All of the shows. I find it so relaxing and I'm guaranteed a happy ending!
Real estate reality tv – Selling Sunset, Buying Beverly Hills, Million Dollar Listing LA – It's not real, but it's really fun to watch!
To me, accountability is…
Character and growth. Like most people, I go through phases of strong accountability and times when I struggle to keep moving forward. Being accountable to others puts that added pressure to report back on what you did or didn't do so you can continue to explore your patterns and resistance. As my group knows, I am a chronic over-planner and despite accomplishing a lot each week, there's often a list of things that don't get completed. AW gives me the space and support to think about why I chronically over-plan and overestimate what I can do in a week and a chance to re-adjust to a more realistic week (Thanks, Coach Becky!!) When I do adjust, it feels better, I feel more productive and I carry that momentum into the next week. I'm a work in progress. But aren't we all?
Accountability Works helps me…
Stay focused on the right things. It's easy for me to jump from task to task, especially while running two businesses. AW has become an extremely valuable anchor for bringing me back to my priorities and pathway to my goals. It helps me to stay consistent and manage myself and businesses better. I am certain that I make more forward progress with this process in place.  
You can connect with me or learn more about what I do…
To connect with me about real estate, please visit www.ErikaWesthoff.com
Referrals are always welcomed and appreciated!  
For more information on my Mental Training services, please visit www.EWPerformance.com