There is nothing like a tropical summer getaway. Marissa and I had a lot of fun coming up with our 5 Summer Travel Essentials. Neither of us like to have big carry ons or overly full bags. Not over-packing is a skill and part of it is having confidence that you are bringing only what you really need. So here is what made the cut for both of us. 
#1 Sunscreen
We both love Supergoop! We still can't get over how good it feels on our skin while being good for you and the planet. Marissa loves their Unseen Sunscreen and I'm bringing their Glow Oil (for me) and Play (for the kids).
#2 Sunhat 
Marissa is a fan of the wide brim sun hats like this one. While I appreciate those and will bring one. I think a baseball cap is a must-have. Last year, I got turned on to the Melin Hats and they are now my go-to because they are washable and water sport friendly.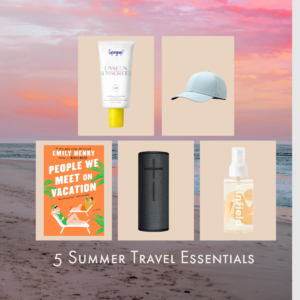 #3 Book
Vacation is for relaxed reading. We both wanted fun books. Marissa is bringing People We Meet on Vacation by Emily Henry and I'm taking Lessons in Chemistry by Bonnie Garmus. On a side note, I recommend anything from Taylor Jenkins Reid, my favorite so far being Daisy Jones and the Six. 
#4 Music
Two things to note here. First, having your own waterproof, sandproof music player on vacation is awesome. We like this one and this one.  Second, it's important to download your playlists to your phone before you leave so you aren't dependent on a wifi connection. 
#5 Bug Repellent
I've been using Avon's Skin So Soft bath oil for decades since a fellow traveler turned me onto it as having the unintended side effect of being an excellent bug repellent. Marissa and I have the not so lucky commonality in that bugs love us. This year we are both trying out Golden Hour from Kinfield. Marissa said it passed the Mexico al fresco dining test. TBD on how it works in Costa Rica. 
Bonus Tip: I went next level this year and bought packing cubes. I will never travel without them again. I feel insanely organized and can't believe I haven't tried them sooner.
What are your summer travel essentials?