Greetings from Cafe Josephine in Paris. It's a chilly morning and I'm perched on the second floor of a lovely patisserie and bakery around the corner from the apartment that we rented for our 5 day stay here. I'm currently looking down over two counters – one full of fresh baguettes, croissants, and pastries all being brought straight out of the oven by a woman with a beautiful pink scarf wrapped around her neck and another counter filled with brightly colored macaroons, eclairs, and fruit tarts and behind it is a wall filled with champagne bottles. Oh my goodness! How will I ever finish this post?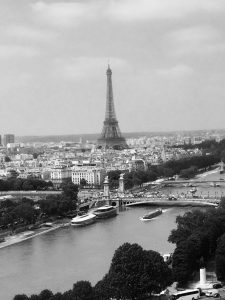 This whole experience makes me grin because about a year ago, I was putting the finishing touches on my first digital vision board. I made it using Canva and was having a lot of fun hunting online for the images I wanted. Usually I make a board out of magazine cutouts and the images sort of find me. In this case, I was tracking them down via Pinterest, Google Images, and some of my favorite free images sites like Unsplash. I added an image with the words "Take Me to Paris" and another image of a famous French blogger, Mimi Thorisson, with her family to represent going to France with my husband and kids. 
Two days after I completed the board, a little box arrived at our front door, with two Italian wedding cookies inside and a Save the Date to my husband's cousin's wedding in Portofino, Italy the following year. Portofino is a tiny, idyllic port town (for enormous yachts) on the Italian Riviera. Of course, I took this as the universe supporting my dream to go to Paris with my family. Not only would we be traveling to Italy with our kids in tow for this important family event but with my husband's sister, her husband and their two kids, and my mother in law. I can't imagine all of us planning a trip to Europe together at this point in our lives. The expense, the time away from work, the logistics of getting 9 people all on the same page for 17 days would have been too daunting but this celebration made it possible. It's turned out to be the kind of trip that is full of adventures, mishaps, funny stories, great meals, and good, good times.
So far we've spent 5 days in Portofino for the wedding festivities, 4 days in Florence, 3 days in Nice, and now 5 days in Paris before we return home. I know my kids will never forget this experience. They've been to the Leaning Tower of Pisa, seen Michelangelo's David, made their own gelato, hunted for sea glass along the Cote d'Azur, and climbed the Eiffel Tower. They have seen and experienced geography, culture, and art in a way that I never would have imagined at their age. They've done it all with us, their cousins, their Auntie and Uncle, and their Nana. I could not have dreamed up a better trip. I could not have asked the universe for all this because it was much more than I would have thought possible. All I said was "Take Me to Paris" and put a mama and her family next to it, the rest unfolded from there.
So here's why I'm writing all of this to you. To urge you to put your dreams out there. You can have what you want. I didn't make the wedding happen but I was absolutely clear about what I did want and when the opportunity presented itself I took it. If I hadn't made that board two days before the invitation arrived maybe I wouldn't be in this cafe right now. Maybe we would have gone to the wedding and flown home after. Maybe we wouldn't have brought the kids. Maybe the impracticality of taking a major trip mid-spring session, mid-school year, and mid-major life changes for our family, would have meant we didn't go at all. But that's not how it went and I'm so grateful to be here.
Now, I'm going to let Paris sink in and change the parts of me that it will. I'm going to breathe in the scent of fresh bread and savor this whole experience as much as I can. And when I'm back in the States and all of this is just a memory I'm going to hold onto it until I'm ready to dream my next dream. When that time comes, I'm going to capture it in a new board because I know that when I do, I'm committing to making that dream happen too. 
So if you want to make your own vision board, ask yourself what is it that you really, really want? Do you want to ride a camel in Egypt? Do you want to write a novel? Do you want to learn to sail? Do you want to see the sunrise from Haleakala? Do you want to start a business? Do you want to get involved with that charity you admire? Write down your answers. Hunt for your images. I encourage you to try a digital one because it's fast and easy. Put it where you can see it. I made mine my home screen on my computer, and then let it work it's magic. And when it does, let me know, I want to hear all about it.