Meet the Co-creators of All The Happier
This month's AW Member Feature is a Q+A with Christy Peterson + Kimi Culp. We are so excited to introduce you to the dynamic duo behind All the Happier. Christy Peterson is a good friend and past member of Accountability Works. She used the program several years back to help her finish her Master's in Positive Psychology. She was also raising three busy girls and transitioning from her career as a lawyer.I know, that's a lot!
When she decided to team up with her childhood bestie (and total badass multi-media producer) Kimi Culp to launch a new online program they turned to AW to keep them on track and to help them stay focused on their goals while navigating what can be tricky waters when you go into business with someone (most especially when it's someone you love).
They worked with AW Coach, Amanda Hogberg, to set some pretty lofty goals. She supported them all the way to the finish line, which they arrived at right on time for their launch in September. They beat their enrollment goal, completed the first round of All the Happier, all with loads of positive feedback and lessons learned. I don't think either of them would say it was easy. But nothing ambitious and outside of your comfort zone ever is. Way to go ladies, you did it! Learn more about them and what they are up to below.
In this month's Member Feature, we are excited for you to get to know the Co-creators of All The Happier – an online course to thrive in modern day life. Rooted in science, proven in story.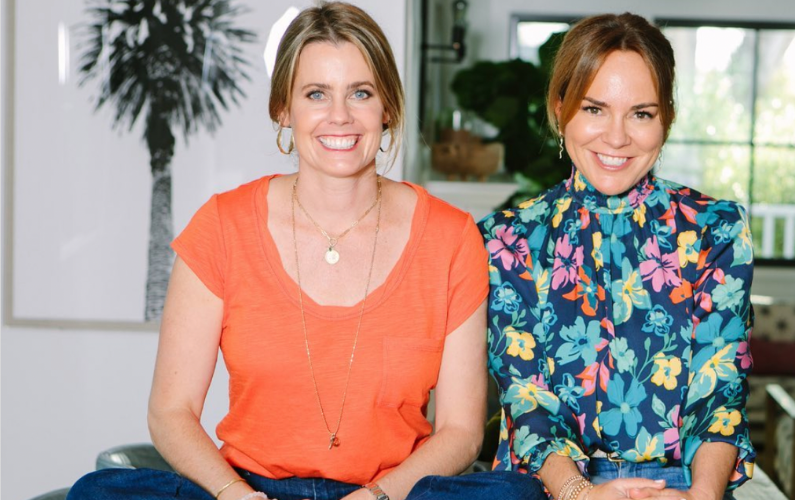 Q+A  with

Christy Peterson + Kimi Culp
Our true north/WHY is…
We are both deeply curious about our world, creative, adventurous (Kimi more than Christy) and share a strong desire to be of service to others.
Our why – To increase people's well-being and resilience, to identify their natural strengths, and to discover what helps them succeed and thrive, particularly in times of stress, uncertainty, and transition (hello 2020… to the present).
Our expertise/zone of genius is…
Combining story and science! We love to combine compelling stories of transformation with research-backed strategies to help people flourish. A good story can change lives. We thought, all the better if we could combine a moving story with real tools to help people incorporate some of that learned wisdom into their everyday life.
Our daily practices are… 
Christy: meditation, journal (it's messy), and strong coffee.
Kimi: meditation, gratitude and 60 seconds under a cold ass shower.
Favorite indulgence is…
Christy: cozy morning in bed or on the couch reading while drinking coffee and ignoring responsibilities.  
Kimi: bingeing on dark chocolate and/or Queer Eye.
Reading, listening and/or watching…
Christy: Memorial by Brian Washington, listening to The Extended Mind by Annie Paul and watching Queer Eye (or The Afterparty with my 15-year-old)
Kimi: Where Should We Begin with Esther Perel
To us, accountability is…
Setting meaningful goals that are driven by our values or how we want to show up in the world (rather than a bunch of shoulds) and then, crucially, following through with those commitments.
Accountability Works helps us…
To create a vision for ourselves and our business, set clear goals and take committed action on the regular. 
Thank you for reading our Q+A with Christy Peterson + Kimi Culp. If you'd  like to connect with them or learn more about what they does.
Visit allthehappier.com to join newsletter and learn about latest offerings or listen to podcast every other Wednesday on A Little Wiser allthewiserpodcast.com and kimiculp.com.