Meet AW Member Q+A with Viviana Cherman. Viviana started working with us back in 2016 and has been a member on and off ever since. Her friend, mentor (now business partner), and OG AW Member, Gina Piper, recommended us and we are so grateful! Gina and Viviana have since opened their own company, Elation Real Estate, and watching their business grow from a small team to a bustling office of agents with aligned values has been incredible.
We truly appreciate Viviana as the rockstar business woman that she is but I think it's her warm and genuine personality that really stands out. I was lucky enough to get to hang out with Viviana live and in person in Costa Rica this summer (I know, pretty cool, huh?). What I can say for sure is that Viviana is a bundle of energy and positivity. She says yes to adventure and challenges. She meets everyone with a smile and a kind word. And she really loves dogs, what more can I say? I hope you enjoy learning more about Viviana below!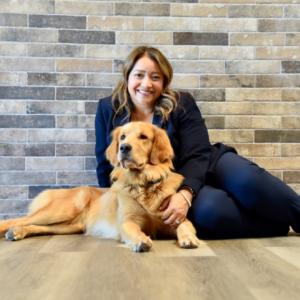 Name…

Viviana Cherman
My true north/WHY is…
To leave the world a better place than how I found it.
My expertise/zone of genius is…
Building relationships. I feel like I can meet someone for the first time and instantly become best friends.
My daily practices are…
Pray, read, exercise, rub my doggo's belly.
My favorite indulgence is…
Watching girly movies on Netflix.
I'm reading, listening and/or watching…
Reading The Untethered Soul by Michael Singer
To me, accountability is…
Doing something that I said I was going to do.
Accountability Works helps me…
Do the stuff that I would normally procrastinate on. If it is on my accountability list, I will do it!  I've been working with AW for almost three years now, and I don't think my business would be as successful without their support.
You can connect with me or learn more about what I do…

We hope you enjoy learning more about our members! Our Q+A with Viviana Cherman is part of our effort to give you an inside look at our Accountability Works Small Group Coaching Program. If you'd like to join our waiting list for our 2023 Membership click here.