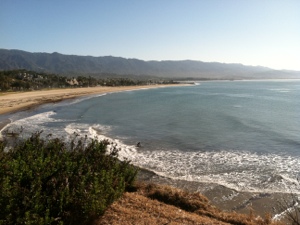 It makes me laugh to think of how long my husband, Eric, and I have been talking about moving to Santa Barbara. It's been the dream. We've had a lot of soul searching conversations. Every milestone along the way we would check back in and ask each other if we were still committed, and the answer was always yes. It's where we want to live, where we want to raise our kids, and where we see ourselves living our best lives. Now it's all set. The boxes are being packed. The move date is less than two months away. We are getting ready to live our dream. We keep getting these silly grins and looking at each other in disbelief, like wow is this really happening? 

When I first started training with my mentor, Kathy Ollerton-Krafchow, she said that she never found a definition of commitment better than this:
"Until one is committed, there is hesitancy, the chance to draw back, always ineffectiveness. Concerning all acts of initiative (and creation), there is one elementary truth that ignorance of which kills countless ideas and splendid plans: that the moment one definitely commits oneself, then Providence moves too. All sorts of things occur to help one that would never otherwise have occurred. A whole stream of events issues from the decision, raising in one's favor all manner of unforeseen incidents and meetings and material assistance, which no man could have dreamed would have come his way." ~ William H. Murray
I know only too well what happens when there is hesitancy, but every once in a while, when we decide that we are all in, no matter what, we get to experience the awesome power of commitment, and it is so true, Providence does move. All sorts of things do occur to help you out that never would have otherwise have occurred.
Goethe was right.
"Whatever you can do, or dream you can do, begin it. Boldness has genius, power, and magic in it. Begin it now."
P.S. The Summer Sessions are enrolling now, so if you are thinking of joining a group, now is the time! Don't forget to subscribe!