When I started Accountability Works my idea was to rent a space and hold groups locally, much as I had done when I was coaching realtors except people would come to me instead of me coaching at individual offices. When I was in the midst of negotiating rent on a space, I sent out a questionnaire to several people in my network about my new business. I asked a few direct questions and gave room for additional comments. One person responded that they loved my idea and would like to participate in a group from across the country in New Jersey.
This one comment challenged me on many levels. I was used to working with people in person, and I wasn't sure if I could get the same results over the phone. (This was 2012 and video conferencing was expensive and not as reliable as it is today so I didn't consider that option until at least 3 years later.) Plus, if I did go virtual instead of in-person, would people feel less inclined to work with me? I would have to market my services in a different way. There would be tech challenges to overcome. I was equally fearful and enticed by the idea especially given that I knew it was my dream to move to Santa Barbara one day and building a location-independent business would make that move easier. I decided to run with the idea of offering my groups virtually but I also knew I needed help, so I hired a business coach to teach me how to put my coaching business online.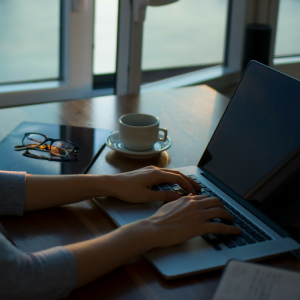 She helped me put together my first offering, a 3-page website, and to enroll my first group. I work with people today to help them do the same thing and it makes me laugh at how simple it was back then compared to now. I had no aspirations of building a huge email list or creating a glitzy opt-in. I did not have an email service provider. We talked nothing of blogging or having a social media calendar and my 'work with me' page was the furthest thing from a sales page you can imagine. Looking back, I'm glad I was clueless about all the things I didn't know because it would have been paralyzing.
Setting up those first simple elements was like hanging the open sign outside of my virtual office. The most important thing I did for my bottom line was learn about email lists and how to build them. My first year I topped out at about 250 people on my list. I did pretty well with a small list because I knew almost everyone. Growing from 250 to 800 took me another year and with it I saw an uptick in my business and I started to enroll strangers, which was awesome. The next hurdle would be from 800 to 2,000-ish. That growth was less satisfying as now I was using Facebook ads but I found that I hadn't attracted the right people. I got better at targeting my ads. I thought hitting 5,000 would be really exciting but instead my engagement went way down and I realized a clean, engaged list is best so nowadays I pay less attention to the total number and I focus on engagement.
Engagement in the early days came from my blog. I set up a simple WordPress site and shared my blog on my personal and business Facebook pages, Twitter, and LinkedIn. Eventually I went from blogging to writing a newsletter. I wanted people on my newsletter to get a more personal touch than what I was sharing on social media. Plus, I'm often told that I'm a wealth of information, which is mostly because I'm interacting with growth-oriented people all day long so I hear about books, apps, podcasts, products, and services that are of interest to my subscribers. I wanted a way to share that info with people, so a newsletter made sense. 
Social media was probably the place where I wasted the most time and if I had it all to do over again I would decide how I like to use it sooner. Facebook is an important place for my business and I attribute a lot of my business growth to running Facebook ads. Instagram is where I personally like to hang out online. Since I enjoy being on it, I'm much more likely to comment and engage there. I've used various tools to manage my social media – Hootsuite, MeetEdgar, and Later. My best investments have been my assistant to help me manage a social media calendar especially when I'm doing a launch (which I don't do anymore, but that's another topic) and Canva. Canva is one of my all-time favorite online tools. I also like Unsplash and Creative Market for pictures and graphic design elements.
To manage my lists, opt-ins, etc., I started with Mailchimp, then realized I needed the ability to tag and segment my list and moved over to ActiveCampaign, but I quickly outgrew it and wish I'd either stayed with MailChimp longer or gone straight to Ontraport. I wouldn't recommend a sophisticated system like Ontraport unless you understand why you need it. The learning curve is steep and the price tag is expensive.
On the tech side of running my groups I tried a ton of different conference calling tools but settled into UberConference which worked fine until we had to do a lot of overseas calls. About that time Zoom came on the scene and it saved us. A lot of our clients come back to us for years and making the switch from a conference call to a video conference was uncomfortable at first but most everyone eventually adopted it and nowadays it's the norm.
Tracking goals and commitments was a tedious task. At first we gave everyone pdfs, then fillable pdfs, then we shared Google docs, and finally I couldn't handle it anymore and I developed the A-Game App. Developing an app is no easy thing but I'm so happy I did. I tried finding something on the market that I could tailor to our needs but nothing quite fit. Now I have exactly what I need for the program I designed. It allows us to track every week of every session and also allows us to compare results from one session to the next so we have robust data on our methodology and how well it is working.
All the while, please know I've made one zillion mistakes, I have DIY'd too much and wasted money on expensive freelancers and services I wasn't ready for. I've signed up for way too many courses (except for anything by Amy Porterfield – I'd recommend any of hers in a heartbeat). I've learned the hard way that even though your gross sales numbers might be exciting, it's the net that really matters. I've hired lawyers and accountants and a therapist or two to help me straighten out the messes I've made or the mess that I am as the case may be.
Whatever mistakes I've made, I will never regret taking that leap of faith way back when and opening my virtual doors. There is nothing like connecting with people across the globe and that we somehow found each other in this massive web still amazes me. I will also always relish the times when I get to see someone I work with in person and I will strive to continue to create those opportunities, but in the meantime, visiting you at your desk every week, making sure that your business is humming, that you are on track with your goals, and seeing you win – is pretty awesome.