When I first came across Selena Soo, I was immediately impressed. I started following her work and by using the same methods she teaches I got connected to her and was given a recommendation to her Publicity Mastermind. She interviewed and accepted me into the program which I was thrilled to join and for the last 4 months I've been learning so much from being a part of the group. Last week, we all met in New York City for a retreat that included hot seats, special guests, and a dinner party attended by representatives from many different media outlets. I've been sharing my takeaways with the Declare & Share group all week so in case you haven't seen them or aren't a part of the group (you are invited – just click here) I wanted to pass along the best takeaway's.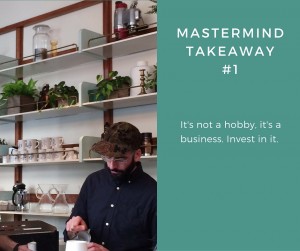 Mastermind Takeaway #1 – This takeaway comes from Jenn Scalia an ultra-successful business coach. She gave the example of opening a coffee shop. When you decide to open a coffee shop you invest money into your business right off the bat. You find the space, get the equipment you'll need, you get tables & chairs, lighting, you decorate, you hire staff, set up your system for payment, then you open your doors and start selling coffee. She said in the online world we bootstrap way too much. We think, when the clients come then we'll hire a few things out, then we'll invest the money. Invest before you think you should. Hire before you are ready.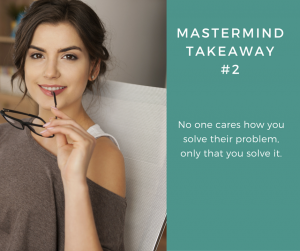 Mastermind Takeaway #2 – No one cares how you solve their problem only that you solve it. So #1 identify the problem #2 what will their life look like after working with you? Case in point: My clients feel like they have a million things to do but are not getting traction on any of them. They can't focus due to distraction or overwhelm – usually both. They lay in bed thinking about everything they have to get done the next day and it makes them feel anxious and behind. The benefit of working with me is that they become focused, they find more calm and space in their life to do things that make them feel better, while still tackling the things that are most important to them. Absolutely nothing in that marketing message says anything about accountability or accountability groups which of course is HOW I solve the problem. I've heard this 1 million times before but I finally got it.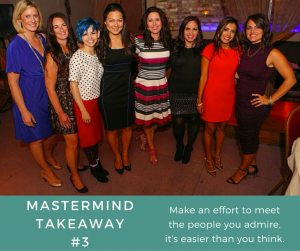 Mastermind Takeaway #3: Get out from behind your computer and go places. I would never be among this group of powerful women leaders (Lisa Corduff, Christine Eagan, Kimra Luna, Selena Soo, Andrienne Richardson, Jenn Scalia, and Dr. Amy Shah) if I had not invested in live events. In the online world we can create relationships with people on the other side of the world which is incredible but we can forget how important it is to get out of our comfort zones and share time and space with real people. I started by going to large conferences – the ones that called to my heart and there I met new and interesting people I never would have met or heard of otherwise. Today I count among my friends some of the people I've admired from a far and it's completely expanded my mindset and my business.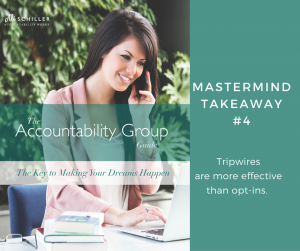 Mastermind Takeaway #4: Tripwires are more effective than opt-ins. So this one is a little more tech-y and geared to the online marketer. At the mastermind we had a guest speaker who had built several $100M+ online businesses. He was amazing and literally I thought my head would explode while he was talking he was thinking so BIG. So, popular wisdom in online business is that your email list is everything. How to build that list is generally taught as the following – create an irresistible opt-in, freebie, or gift – people opt-in to your list to receive said gift, and then you put those people into a nurture (email) sequence which allows them to get to know you and what you do and how you can help them and if you've done a good job communicating the value of your offer and targeting your ideal customer you will sell this person your product or service. However, our guest revealed that after spending over $15M in email marketing per year and over 3,000 split tests per year they have found that the best way to market online is not to have a free offer but a low-cost trip wire (i.e. an item for purchase). If people pay for an item they are more likely to open it and use it, and they will be more engaged with you, and they will be more likely to buy a higher priced item later on. Which was funny because when I hired my first business coach it started because I bought her $17 ebook, after I read it and liked it, I signed up for her $1600 coaching package. Anyway, he said we are better off building lists of buyers and spending our money on retargeting ads rather than on maintaining large email lists of people that are not engaged with us.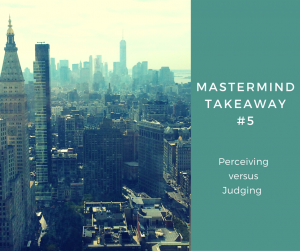 Mastermind Takeaway #5 – Perceiving versus Judging. It's not as bad as it sounds, it's Myer's Briggs Personality Test terminology, for what in my view equates to the right brained versus left brain dominance. The dreamers versus doer's. The big picture versus sequential steps. I've always seen myself as a left-brain person because I studied engineering. However, I discovered that I am slightly more right-brained. This explains how I am in the unique position to have solved my own problem. My absent-minded professor persona is exactly what led me to create Accountability Works. It's helpful to know your personality type in business in order to build out a good team and also to assess your strengths and weaknesses. For example, I just used the test to help me find a J-type assistant who would be a good compliment to my personality type. I also picked an extrovert because her role involves a lot of customer service functions and I wanted someone friendly that genuinely enjoyed connecting with people. This is nothing I would have thought of before but it made finding my first in person hire so much easier.
Those are my takeaways and I hope they've given you some food for thought. If you had new insight or a story to share please leave a comment, I'd love hear from you.