How it started
Long before the vision for a piece of land changed the course of my life, I was simply a girl in search of fun waves to surf before real life started. I was 23 years old and travelling to Costa Rica for the first time. I'd just graduated college and planned to stay 2 1/2 months with various friends coming and going. We were ready for a summer of travel, adventure, and freedom. My best friend, Karin, and I arrived in the middle of the night in the beginning of July 2000. We called around in the morning to find a rental car and finally found one that fit our budget but it took at least half a day to get it all sorted out.
Getting there
Armed with the Surfer's Guide to Costa Rica, we decided to head up to northern Pacific side of the country and work our way down from there. The car rental having taken most of the day, we didn't get to our first destination until after dark. The town, if you could call it that, was tiny. There weren't any street lights so everything was pitch black when we arrived and after slogging over dirt roads we eagerly followed a sign with an arrow that said "cold beers". We ended up at the Lotus Lodge where we found a clean room, cold beer, and good company. A couple of surfer boys (teenagers actually) from Florida. They promised to wake us up in the morning for an early surf and at first light a knock at the door alerted us to hurry up the waves were good and no one was out. We suited up and ran out after them so excited to see the ocean for the first time since we arrived.
Love at first sight
The moment the path gave way to the sand and I saw the ocean for the first time, I knew I was looking at something special. But I was too excited to take it all in. The waves were perfect, it was a beautiful sunny morning, and Karin and I had these huge silly smiles on our faces as we paddled out. After we'd caught a few waves the reality started to set in.  I was looking at the green of the Mangroves growing up to the white sand beach giving way to the green of the ocean, and I turned to Karin and said "I will come here every year for the rest of my life". I've been a few places, and there are so many more that I would like to see, but that moment something changed in me. There was an alignment, a perfection, a moment when you know you are exactly where you are supposed to be. I felt alive, really alive, like the beauty of the place had filled me up and I was overflowing. I knew this place would be part of my life forever, and it has been ever since.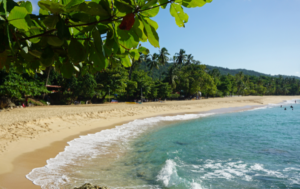 More than a decade later
Fast forward 11 years. I have been to Costa Rica 10 times. I've been from one end of the country to the other and across it. My then boyfriend now husband joined me at the tail end of that first trip and fell as in love with it as I did. We've travelled back many times just the two of us, with friends, and with family. We bought two acres of land in 2004 with my mom and my sister and her husband. In 2006 we celebrated our wedding there with 104 of our family and friends. We have taken our 2 year old son twice. We would probably be there again this summer if I wasn't 7 months pregnant with our second child.
The vision
I wanted to write about this because I am excited about our plans for the land. And I wanted to put in some background as to why this place is so special. The land we bought isn't just going to be for a vacation home. When I stood on the land with my husband for the first time I had a vision for it.  I saw that I could combine many of the things that I love in that one place and share those things with others. This was a place I could do my deepest work. That I would bring people together that were looking for a nurturing transformation. That I would build a sanctuary. A place of contemplation and retreat from the worries and the everyday grind of life. A place where realizations are commonplace and the energy invigorates the soul and reminds us of the simplicity and beauty of life.
I am thinking of this land and how it's inspired me, and how the vision I have for it inspires me still.