Do you have a happy place? A place you know you can go to relax and wash away your cares and hurts? A place where you remember who you are and what's important to you? 

I found mine 14 years ago when I came to Costa Rica for the first time. More than a dozen trips later and I am back here. I felt a little self-conscious at the airport when a first timer from Chicago made fun of us for coming back to the same place so many times when there is so much of the world to see. Sipping coffee, watching my kids play, feeling the cool ocean breeze, I think any place that makes you feel like this is worth coming back to.
I notice many things here. I notice that time slows down. That I rise with the sun and go to sleep super early without an alarm to tell me to do so. That my kids can occupy themselves for hours on end with a pool and some legos. That fruit eaten where it's actually grown tastes a million times better.
I remember an essential part of myself here. As my husband sits down to join me, I am reminded that in those early days, before marriage, before kids, before houses, and careers – we talked about coming back here, just like we are now, and I am thankful that life has been so good to us. I remember that at 37, I'm not so different than I was at 23, and that makes me smile.
I come to my happy place with good intentions. To rest, to vacation, to spend time with my family. In anticipation, I think of surfing, visiting old friends, the logistics of getting here and having our stay be just perfect. Those are my intentions. But the trip morphs into something else. It always does. It's the magic here. The way you think of someone and they appear. Where something breaks and suddenly there is someone there offering to help you fix it. I feel in a flow here. I always have. I think it comes from the fact that everything feels very alive here. I feel more alive here. I feel like part of something, of everything. I can feel very separate in my normal life. It must dull my senses. Here I am connected and awake to that connection. That feeling of aliveness is so fundamentally important to who I am. I've come here to feel more alive. Good, I've written that done. Now I will remember.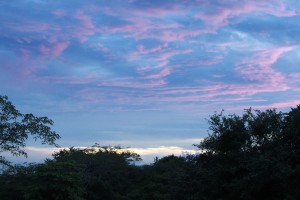 What's your happy place? Is it the family cabin up in the mountains you've been visiting since you were a kid? Sitting under a big Oak tree in your backyard? Is it a special place on the coast? Understanding why your happy place makes you happy is nurturing and healing. It makes you realize what you need to connect to when you want to renew. Think about it. I'd love to hear what makes your happy place happy.
 Summer Session 2 is Now Enrolling – Check the Schedule Here. Get ready for 6 weeks of massive, soul-affirming action.