The AW 1-Year Undated Planner was one of our biggest departures from our wheelhouse of delivering accountability coaching and the occasional digital download to help people understand a particular aspect of our framework. The purpose of our planners was to fill the need of our clients that are self-described 'paper people' and to introduce people to planning with accountability at the center rather than as an afterthought.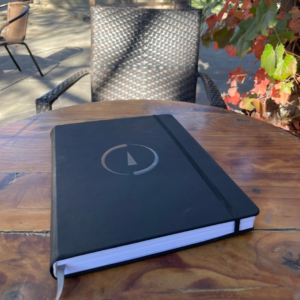 All would have gone well except for 3 things. One, a global pandemic that precipitated global supply chain issues. Two, having to double the size of our original order in order to meet the minimums of the manufacturer in China that we had selected. Three, a large percentage of the finished product arrived with glue residue on the covers. Thankfully the manufacturer took responsibility for the error and reimbursed us the cost of the planners but that left us with quite a few that we weren't comfortable selling. 
We knew we had to make a decision about what to do next by mid-July but we weren't sure how to proceed. We didn't like the new cover options we were given and the COVID situation in China made us nervous. We knew we had to make a change and decide quickly. We worked with a book designer to help yet we felt like we really needed to consider a different manufacturer and figure out a way to support our clients while still delivering a high quality product that reflects our aesthetic and brand. 
Plus, we have planners that have slight imperfections that we didn't have the heart to throw away. What a waste! We have found some good homes for some but we still have enough that we want to offer them to our community for free! Especially for those of you that already have them and love them and want to continue using our system to plan your year.
To that end, we are offering them to you for free beginning today thru December 18th, all you have to pay is shipping. We hope you will take us up on this offer and get your free planner today. Limit 1 per order. 
This has been a true labor of love for us and we are looking forward to finding the perfect solution for our next iteration but in the meantime, happy planning.
USE CODE: FREEPLANNER2023