Have you ever done a year in review exercise?
If you haven't reviewed your year or you haven't done it yet, I highly encourage you to do one now.
It's pretty natural to come into December feeling like you could or should be further along in some aspect of your life. How do I know this? Because I see it ALL THE TIME in my coaching practice.
That is why our last meeting of a 12-week session includes a review of where you were when you started, what you got done, and based on where you started how your session went.
Success isn't how far you got, but the distance you traveled from where you started. ~ Steve Prefontaine
Our clients are always amazed by how far they've come. I personally think that's because being a goal-setter, creative, or visionary means there is a natural tendency to look forward and to miss the distance already traveled.
We see remarkable growth and change in 12 weeks once we look back. If you don't look back you will measure where you are based on where you want to be. I believe it's crucial and incredibly satisfying to acknowledge the progress that's been made. If it's difficult to do that in 12-week increments imagine how much you miss when 12 months have gone by!
Taking a few minutes to look at what the last year has brought is not only great soul food it also allows you to absorb lessons learned, note patterns, and renew your commitment to what really matters to you. Which is a perfect way to close off the year and an especially good exercise to do when you are setting goals for the coming year.
I encourage you to download this mini guide and to do it sooner rather than later because it will give you valuable perspective and ward off any end of year funk or frenzy that wants to take hold. You can download it here.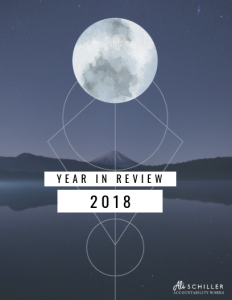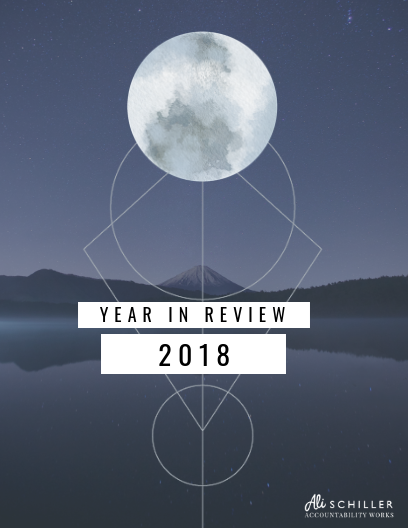 The Year in Review will help you…
1) Look at your goals for 2018 and answer a few questions about them. (If you didn't set explicit goals for 2018 that's okay, these questions will still help you reflect on what got done.)
2) Review your wins and challenges in 2018. 
3) Review your theme for 2018. (If you didn't start the year with one, you will see that one emerges from this process.)
Why do it? Perspective, Relief & Understanding

When I did my own year in review I had such a sense of perspective, relief and understanding. 2018 might have been one of the most challenging of my life but it left me grateful for my resilience and ability to keep moving forward.  
I hope you will give yourself the gift of realizing how far you've come too. And please don't forget to share your insights. I always love hearing from you.
Do you want help accomplishing your 2019 goals?
We just announced our 1-year membership! That means 1-year of total focus and follow through on your goals. When you are a solopreneur or at the top of your organization it's up to you to set the vision, goals, and consistently track and assess progress. But what if that's not your wheelhouse? Well, we've got you covered with an accountability program that will keep you and your business on track all year long and at a fraction of the cost of a highly paid consultant. Click here to learn more.