The 2020s are here and we couldn't be happier to begin this new decade highlighting Accountability Works member, Delfin Lazaro.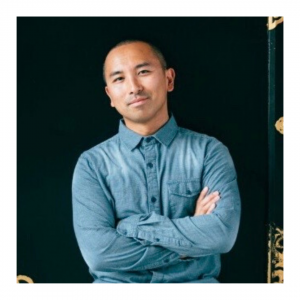 Who do you know that really makes the most of their time here?
Without question, Del is at the top of our list. A devoted husband, father, friend, musician, performer, and software developer (he's behind our AW App!). All while enjoying the hell out of life, being thoughtful, and very generous. Whether he is in his music studio, lending his singing voice for a momentous occasion or planning a celebration…
For his daughter's first birthday, along with family and friends, he created a Onederland themed party that was nothing short of spectacular. His Cheshire Cat costume is one for the books! That extra effort will be felt for lifetimes.
Del infuses our community with life and discipline. He puts in the reps and from that consistent action, has experienced extraordinary success.
As a member of Legaci, he rose to fame through their YouTube channel with over 140 thousand subscribers and 23 million views, which also led them to become the official back-up band for Justin Bieber, performing in over 30 countries and approximately 300 cities. Legaci then went on to record, and their Driven EP has sold worldwide. You may have also seen them on America's Got Talent.
Today, Del is still a member of Legaci, has his own YouTube channel, and decades of experience in music and technology are coming together to form the next phase of his career, producing music.
Del, it's time to toast all that you've done, been a part of, and for what lies ahead! You are part of the fabric of our Accountability Works Member Community and have contributed to our evolution and growth in so many ways. Your dedication to mastering the perfect blend of discipline and fun will continue to feed all that you do. Thank you for being a part of our lives. Cheers!