Monthly Overview and Planning
We have another free download for you! It's our monthly overview and planning pages. We thought you might especially appreciate this heading into November and December because these are the months that really seem to fly by and get overbooked. Taking a few minutes to get an idea of what the month ahead is going to look like, is so worthwhile! 
Our favorite part of this download? 
Easy…The questions at the bottom. 
Why? Because we are pro planners and accountability coaches, which means we are helping people get REAL about how much time they have to spend on something. So if you have birthdays, holidays, visitors, a work event, travel – these things all impact what you are able to commit to. 
However, we've noticed people rarely take these things into account when they are thinking about their goals and what they want to accomplish for a given week. Then afterwards, when they've come up short on what they thought they were going to get done, they feel badly. And that is such a waste of energy. Better to set yourself up to be successful to begin with. And the questions on this monthly overview page  will help you do just that!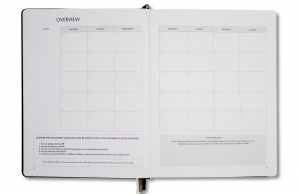 Missed our Quarterly Reflection + Planning? No problem, click
here
to download.