This week we are excited to share our AW Member Q+A with Annette Pellerin. Annette Pellerin is the type of person you meet and immediately think, this person is on top of it. Wicked smart, organized, and service oriented, you know you are in good hands if she is in charge. Annette is great at planning, and she has done a stellar job on accomplishing her goals, what she needed support with was balancing her professional and personal life. Annette was referred to us by a private coaching client that is also a super go-getter at work but who got tremendous value out of taking some of that energy and pouring it into her family and herself. Today, Annette uses our program to balance out her priorities which include work, home, family, and fun. We hope you enjoy getting to know her.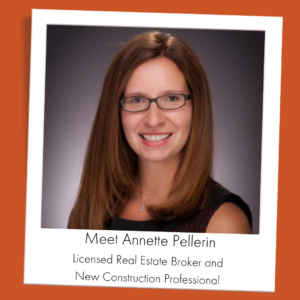 Name…
Annette Pellerin, Licensed Real Estate Broker and New Construction Professional for Marrano Homes
My true north/WHY is…
Providing a stress-free process for customers building their new home. Helping a wide array of customers from first time home buyers to owners building a home where they can age in place.
Being a present Mom and wife and being the director of fun for our neighbors. (Just planned an Axe and Ales night with our neighbors.)
My expertise/zone of genius is…
Real Estate Broker – Specializing in New Construction
My daily practices are… 
Start each day with hot water and lemon. Stretch and ride my bike (my me time for the day). Write down and organize my list for the day. Prepare my kids for school and afterschool activities. Dive into my work day.
My Favorite indulgence is…

Oreos
My Reading, listening and/or watching…
MasterClass with Sara Blakely, Tiny Habits by BJ Fogg
To me, accountability is…
Setting achievable goals by first creating a roadmap for each quarter, and the weekly check in keeps my yearly goals top of mind. Setting clear goals that align with the builder's goals.
Accountability Works helps me…
Keep myself organized and focused on work while still making family and fun my first priority.