I went up to Big Sur with my husband this weekend and stayed at a dreamy place called Treebones. I almost want to keep it a secret but then again, it's a certain person that thinks a yurt on the edge of the world is dreamy. If that's you, you should know about this place. 
At Treebones,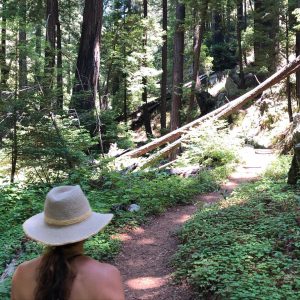 they have this special offering of an Omakase sushi tasting. Omakase means "I'll leave it up to you" in Japanese. And let me just say that it's best that way. I would never think to or imagine that the dishes we ate existed or to order them. During the meal we got to talking to our chefs and I expressed how we'd ended up in Big Sur. How I'd felt this need that I couldn't quite explain to be in a forest. One of them said I know exactly what you are talking about. In Japan it's called Shinrin-yoku or forest bathing. When I looked it up, I found out that research in Japan has substantiated the benefits of forest bathing. Forest environments promote lower concentrations of cortisol, lower pulse rate, and lower blood pressure. They also promote greater parasympathetic nerve activity and lower sympathetic nerve activity.
When I reflect on the last year or so, I know why my feet need to be on soft mulchy forest ground and in cool mossy shaded spaces. And I know what they mean when they call it forest medicine. When I look at this picture I can still feel the energy of the forest and I know that forest bathing will be something I return to again and again. 
Whatever medicine you may be needing, I hope you will gift it to yourself. Our trip was short but that's the thing about magical places, time stretches out and you get just what you need. Not sure on what you need, check out our clarity guide here.